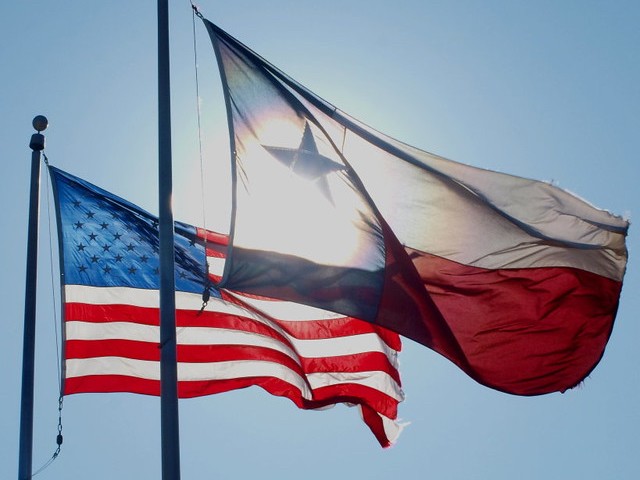 Texas Sues Georgia, Michigan, Pennsylvania, and Wisconsin at Supreme Court over Election Rulesby Joel B. Pollak, published on BreitBart, on December 8, 2020
BZ Update: Other states are joining this suit. As of this update 12.9.20 12:29 pm PST, 17 other states: LA, AK, MS, AL, FL, SC, NC, TN, MO, MI, IN, KS, MT, NE, ND, OK, WV, AZ  have joined.  will post their statements as I locate them.
President Trump Has Filed His Motion To Intervene In The Texas Supreme Court Case (Now with17 other states co Joined)
BREAKING:

TX v. PA

The State of Missouri has filed a brief amici curiae on behalf of itself and 16 other States in support of Texas' application for leave to file its Bill of Complaint. pic.twitter.com/7JceV7VYTa

— Joe Nierman (Parler: @JoeNierman) (@NiermanJoe) December 9, 2020
Here is my statement on the State of Texas's motion filed with #SCOTUS and the State of Alabama's commitment to the fight to ensure #electionintegrity: pic.twitter.com/Z8NUumtb3y

— Attorney General Steve Marshall (@AGSteveMarshall) December 8, 2020
Read our full statement regarding the ongoing controversies over the 2020 federal election and the new motion put forth by the State of #Texas before the U.S. Supreme Court at https://t.co/n5VRo7VEwN. #lalege #lagov #TexasLawSuit pic.twitter.com/zk7oD3ZSU8

— AG Jeff Landry (@AGJeffLandry) December 8, 2020
AG Rutledge Statement on Recent Texas Motion before U.S. Supreme Court pic.twitter.com/QBrLzKe26P

— Leslie Rutledge (@AGRutledge) December 8, 2020
Election integrity is central to our republic. And I will defend it at every turn.

As I have in other cases – I will help lead the effort in support of Texas' #SCOTUS filing today.

Missouri is in the fight. https://t.co/V3aLHrYnOF

— Eric Schmitt (@Eric_Schmitt) December 9, 2020
I have requested through our Attorney General that TN join the lawsuit filed by TX.
The integrity of our elections must be protected to preserve our Republic. pic.twitter.com/5FaxIIymsy

— Rep. Jason Zachary (@JasonZacharyTN) December 9, 2020
Our Office has received many inquiries about the Texas v. Pennsylvania lawsuit filed at the U.S. Supreme Court and whether Arizona will participate. Here is my statement and our legal filing: https://t.co/82qIu1lQ5B pic.twitter.com/tRY6c6lTJl

— Mark Brnovich (@GeneralBrnovich) December 9, 2020
The State of Texas filed a lawsuit directly with the U.S. Supreme Court shortly before midnight on Monday challenging the election procedures in Georgia, Michigan, Pennsylvania, and Wisconsin on the grounds that they violate the Constitution.
Texas argues that these states violated the Electors Clause of the Constitution because they made changes to voting rules and procedures through the courts or through executive actions, but not through the state legislatures. Additionally, Texas argues that there were differences in voting rules and procedures in different counties within the states, violating the Constitution's Equal Protection Clause. Finally, Texas argues that there were "voting irregularities" in these states as a result of the above.
Texas is asking the Supreme Court to order the states to allow their legislatures to appoint their electors. The lawsuit says:
Certain officials in the Defendant States presented the pandemic as the justification for ignoring state laws regarding absentee and mail-in voting. The Defendant States flooded their citizenry with tens of millions of ballot applications and ballots in derogation of statutory controls as to how they are lawfully received, evaluated, and counted. Whether well intentioned or not, these unconstitutional acts had the same uniform effect—they made the 2020 election less secure in the Defendant States. Those changes are inconsistent with relevant state laws and were made by non-legislative entities, without any consent by the state legislatures. The acts of these officials thus directly violated the Constitution.

…

This case presents a question of law: Did the Defendant States violate the Electors Clause by taking non-legislative actions to change the election rules that would govern the appointment of presidential electors? These non-legislative changes to the Defendant States' election laws facilitated the casting and counting of ballots in violation of state law, which, in turn, violated the Electors Clause of Article II, Section 1, Clause 2 of the U.S. Constitution. By these unlawful acts, the Defendant States have not only tainted the integrity of their own citizens' vote, but their actions have also debased the votes of citizens in Plaintiff State and other States that remained loyal to the Constitution.
Texas approached the Supreme Court directly because Article III provides that it is the court of first impression on subjects where it has original jurisdiction, such as disputes between two or more states.
Documents follow:
TX v State Motion 2020-12-07 FINAL
to download directly click here
487348469-TX-v-State-Motion-2020-12-07-FINAL