Trump says he would 'love to have the country opened up' by Easter
by Zachary Halaschak, published on The Washington Examiner, on March 24, 2020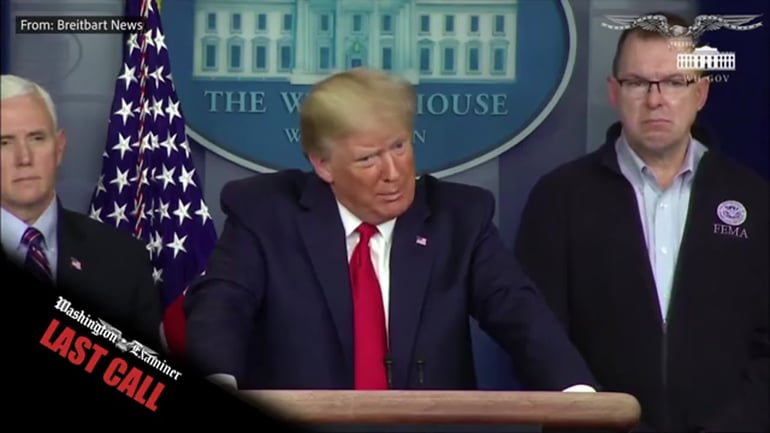 President Trump said he hopes the country will begin returning to normal in less than three weeks following a widespread shutdown to mitigate the spread of the deadly coronavirus.
At a Tuesday Fox News town hall event taking place in the White House Rose Garden, Trump surprised hosts Harris Faulkner and Bill Hemmer when he set a goal for the country to begin reopening by April 12.
"I'd love to have it open by Easter. I would love to have it opened by Easter," the president said.
"Oh, wow, OK," Faulkner interjected.
To curb the pandemic, US is slowly pausing financial time
"It's such an important day for other reasons, but I will make it an important day for this too. I would love to have the country opened up and just raring to go by Easter," Trump continued.
"That would be a great American resurrection, two-and-a-half plus weeks from now," Hemmer said with a chuckle.
This exchange comes only days after Anthony Fauci, director of the National Institute of Allergy and Infectious Diseases, said the public would likely need to stay at home for the next "several" weeks.
The federal government asked citizens last week to self-quarantine in a campaign that called for "15 Days to Slow the Spread" of the flu-like virus. The guidance expires next week, and Trump previously said he would reconsider what to advise at the end of the two-week period.
Later on in the town hall Tuesday, Trump faced further questioning about his hope for the country to reopen sooner rather than later, even as states are instituting orders and guidelines for residents to self-quarantine or "stay at home" and nonessential businesses to close.
"You said that … you would like to be back to normal by Easter Sunday, 19 days from now. Is that true? Is that possible?" Hemmer asked after a commercial break.
Trump said he believes it is "absolutely possible."
"I think it's possible. Why isn't it? We've never closed the country before. We've had some pretty bad flus, and we've had some pretty bad viruses," Trump said. "Now, people are going to have to practice all of the social distancing, and don't shake hands, and wash your hands … but we have to get our country back to work. Our country wants to be back to work."
"And again this cure, it's like this cure is worse than the problem," Trump added. He said that in his opinion, "more people are going to die if we allow this to continue."
As of Tuesday afternoon, more than 46,000 people in the United States have tested positive for the virus, and 593 have died, according to the Johns Hopkins University tracker.